CHS Reunion - Class of 1970
This event has been postponed due to the current COVID-19 measures being taken on campus.
This event will be held in the fall, date to be determined.
If you have questions or if you would like a refund, please contact events@briercrest.ca
For more information on Briercrest's response to Covid-19, please see www.briercrest.ca/coronavirus/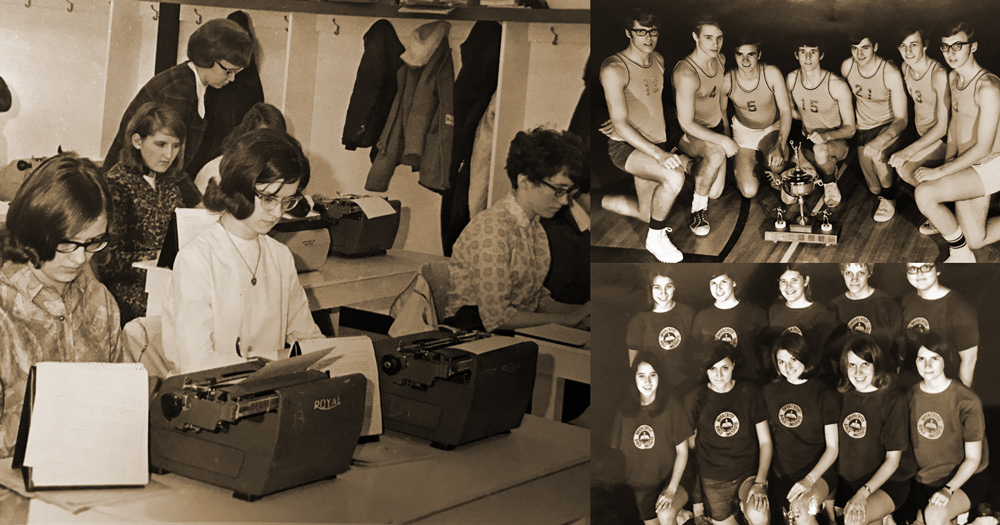 Plans are now well underway for the 50th anniversary reunion of the Caronport high school class of 1970.
Friday afternoon May 8th to Sunday 1 pm May 10th 2020.
FIFTY YEARS! How did we get to this age?! For some of us it is 53½ years (1966) since we enrolled in grade 9 at Caronport so we have a few extra stories to tell! And what is neat is this is also open to 'others' - those who attended CHS while we were there but did not graduate with us. Others may have been with us in any of the 4 grades.
Activities planned so far:
Tour of the new rink, gym, and other 'sites'
Attending opening night of Briercrest OnStage theatre season (Fiddler on the Roof) Friday night in the old chapel (The Landing).
banquet, group photos, and special program
Tours of the famous Tunnels in Moose Jaw
and lots more eating and talking
Schedule
(schedule is subject to change)
Friday, May 8, 2020
2:00 - 5:00 pm - Welcome and Visiting in The Den, located below the Dining Hall
5.00 - 6:00 pm - Dinner
7:00 pm Doors open for Fiddler on the Roof - the Landing (old Chapel)
Saturday, May 9, 2020
8.00 am - 9.30 am breakfast
10.00 am - 11.30 am RAF Caron - pre Caronport Story - Joel From (location TBA)
12 noon -1.30 pm Lunch....
2.00-4.00 pm Tour the Tunnels of Moose Jaw
6.00 pm Banquet JBR
Program and evening visit in The Den
Sunday, May 10, 2020
9.00 am Presidential Breakfast JBR
11.00 am Worship (maybe some presentations by our classmates TBA)
12.30 pm Lunch and good byes
2.00 pm Tour of the Tunnels of Moose Jaw for those still around and wish it
Like and follow our Facebook page for more details and updates for the event.

Extras (Optional)
Tour of the Tunnels

$11.70/senior/group rate
Each tour 45- 50 minute long (+ gift shop!)
Pick one or both Choose:
The Chicago Connection (3 LONG flights of stairs)
Passage to Fortune (wheel chair accessible)
Saturday afternoon
Sunday afternoon
Minimum 15/ group tour; 16 people per tour. $20.70 for seniors group rate for both tours

Fiddler on the Roof tickets for Friday Night (order early) $14/senior
Individual Meals - pay in dining hall
Pay Tour & Play to Peggy pegmacb@vianet.ca 705.235.5121c.
Tickets for play sell fast - let her know ASAP
Other notes
Pilgrim Inn – There is a block of rooms reserved under Peggy MacKinnon Bendell for $109.89/night. Continental Breakfast included. Please reserve at 306-756-5002 / 1-877-355-5002. Price confirmed until April 30th
Registration
Please register by April 15, 2020
PDF Registration Form - Fax registration form to 306-910-9350 or Mail to: Briercrest College and Seminary, 510 College Dr, Caronport, SK S0H 0S0 to the attention of Event Services
Registration List - see who has already signed up to be here!
For more information contact
Events Department
Briercrest College and Seminary
events@briercrest.ca
(306) 756-3200