Briercrest remembers Darcy Haugan
Posted: November 20, 2018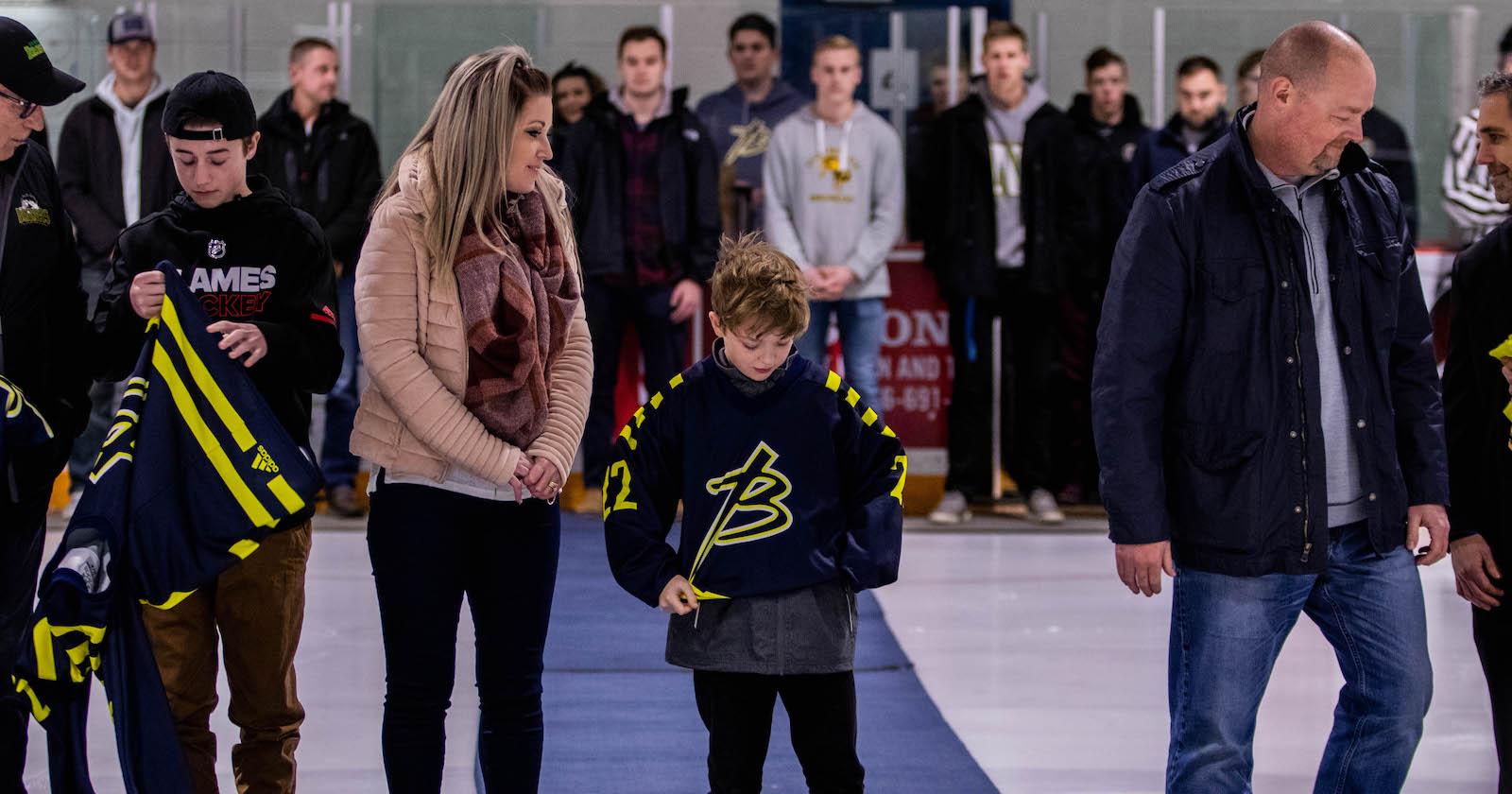 On Friday night (November 16, 2018), Briercrest retired jersey number 22 in a ceremony dedicated to Darcy Haugan.
The ceremony, which was also a part of Briercrest Hockey's alumni weekend, honoured Darcy's Clipper career and legacy both on and off the ice.
Rob Schellenberg, Briercrest's Chief Athletic Officer, said retiring Darcy's jersey was important for the Briercrest community.
It's really important for us to recognize people, especially our alum, that are doing amazing work in today's society. There are too many negative stories. We want to make sure we publicize the positives. We want Darcy's legacy to be remembered for the positives he and his wife, Christina, had here.
Above hockey, Darcy worked to build character in his players, creating a core covenant that is painted in the Humboldt Broncos dressing room.
He loved hockey, but just like his covenant spoke of, it was more than hockey: it was about caring for people and loving people. I really believe it was because of his relationship with Jesus Christ,
said John Bechtold, who coached Darcy from 1998-2000.
Darcy Haugan's impact was evident as alumni from across the nation came to honour his testimony.
For a lot of us alumni, it's a time to reflect not only on our time here and the impact that this place has had on each of us, but to see guys go out in the world and be leaders and have an impact. Certainly, the way he lived was a testimony of a life that's been lifted up,
said Jamie Ramer, former teammate and head coach of the Clippers.
It was important to honour Darcy and his family, and the legacy that he leaves behind, not only as a Briercrest hockey player, but [also] with the teams that he coached and with his family,
added Mark Lockhart, a former linemate.
The alumni stood in solidarity with Darcy's parents, wife Christina, and their sons, Carson and Jackson, during the jersey retirement.
Darcy and Christina Haugan met and fell in love at Briercrest. For Christina, it was especially meaningful to return with her sons and remember Darcy among friends.
One of the most meaningful things to the boys is to be able to talk to the players. They were born into a hockey world, and players mean so much to them. Now to be around players that he played with and be able to hear stories…that's kind of the happy part. They love hearing stories about him.
Darcy's former linemates John Armbruster and Ryan Willison also presented jerseys to Carson and Jackson. The boys later wore Darcy's number 22 to play in the alumni hockey game.
Since the Humboldt Broncos tragedy, Darcy's core covenant been shared throughout the hockey world and is now hanging in Bobby Orr's arena. It states:
FAMILY first.
To treat my TEAMMATES and COWORKERS with RESPECT.
To be THANKFUL for the opportunity to wear the Bronco jersey.
To PLAY each game and practice with PASSION and DETERMINATION.
To conduct ourselves with HONESTY and INTEGRITY.
To treat all volunteers, billets, sponsors and fans with RESPECT and GRATITUDE.
To understand that we are building FOUNDATIONS for future generations with our WORDS and ACTIONS.
To always have HOPE and BELIEVE that everything is possible.
To always GIVE more than you take.
To STRIVE for GREATNESS in all areas of life.