The Seven Stages of Coronavirus Grief
Was it really just last week?
The news that in-person classes were being suspended and moved on-line came at me fast. What a whirlwind! Confusing emotions! Rushed or missed good-byes! Elbow bumps instead of hugs? What? And now…video lectures? Strange virtual greetings through Zoom? And we somehow still have another three weeks of the semester to go?
We've all got a lot to work through, obviously!
As I've been thinking through what I've been feeling, I have come to recognize that my experience evokes the Five Stages of Grief outlined by Elizabeth Kübler-Ross in her 1969 classic, Death and Dying. (It wouldn't be an article from a professor if he didn't give you some properly cited reference material!)
Kübler-Ross doesn't say that you only go forward through these stages, and that's certainly been my experience: often I find myself swinging wildly between them.
But I am working my way toward the later stages, and that's a good thing.
Here's my journey through the stages. Where have you been over the last week or two?
1. Denial
I won't lie. I was here for quiiiite a while:
It's tempting to say, "Well I'm young and healthy, I won't get sick" or "The media is blowing this out of proportion" — but there's a reason I call that a temptation. Temptations should be resisted. Follow the guidelines. Why? Because Coronavirus is very, very infectious, and because math.
2. Shock/Anger
"What is even happening?"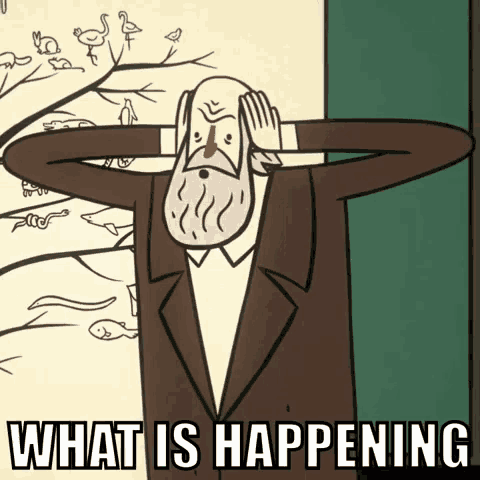 Things got real for me when the NBA season was suspended.
Then, when I realized that moving our classes online would mean our moral debate would get cancelled: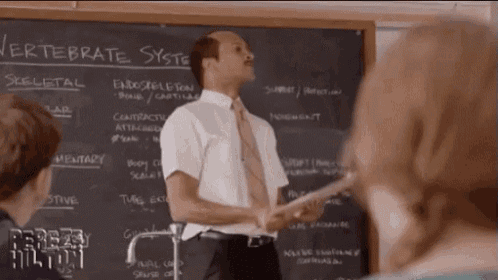 Last week meant a lot of upheaval for all of us. I miss the interaction we have in the classroom and in my office. I'm upset at how extremely online I have to be as we finish out the semester.
There's something profoundly missing when we don't get to be literal co-conspirators: that English word derives from the Latin for "breathing together."
Although there's a lot of blame being thrown around, blaming others isn't a good way of coping with our shock and anger. Better to see it as another temptation that should be resisted.
3. Nervous, feverish activity: prepping, news gathering, stress eating, compulsive netflixing, toilet paper hoarding
The medieval Christians spoke of acedia as one of the capital vices. That term has often been translated as "sloth" or idleness, but it can also express itself in feverish activity. Like this:
Or this: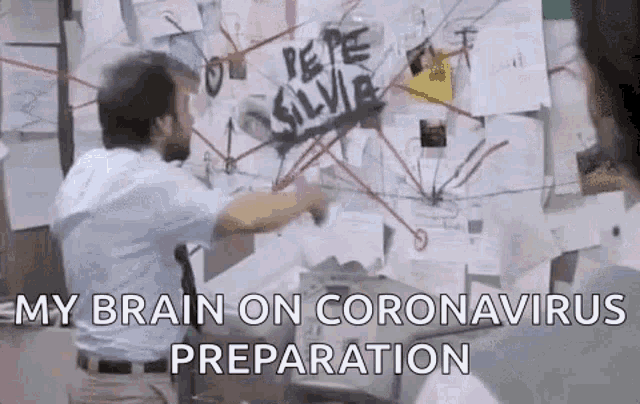 My particular expression of acedia has looked mostly like this: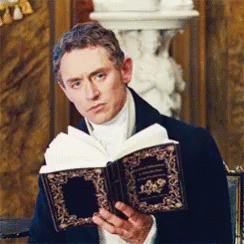 When we worshipped via Youtube stream this past Sunday, the pastor of our church recommended limiting our media exposure time. Although we should stay informed, limiting media exposure is good advice.
The cure for acedia is is remembering who we are in Christ. When we're consumed with getting stuff done, or paralyzed by fear, it's hard to do that. As our College Chaplain reminded us in online chapel, our call is not to worry, but to seek the Kingdom.
4. Socially distanced social freak-out
This is an actual text exchange I had with a friend when I was heading into stage 4 (I'm in the blue):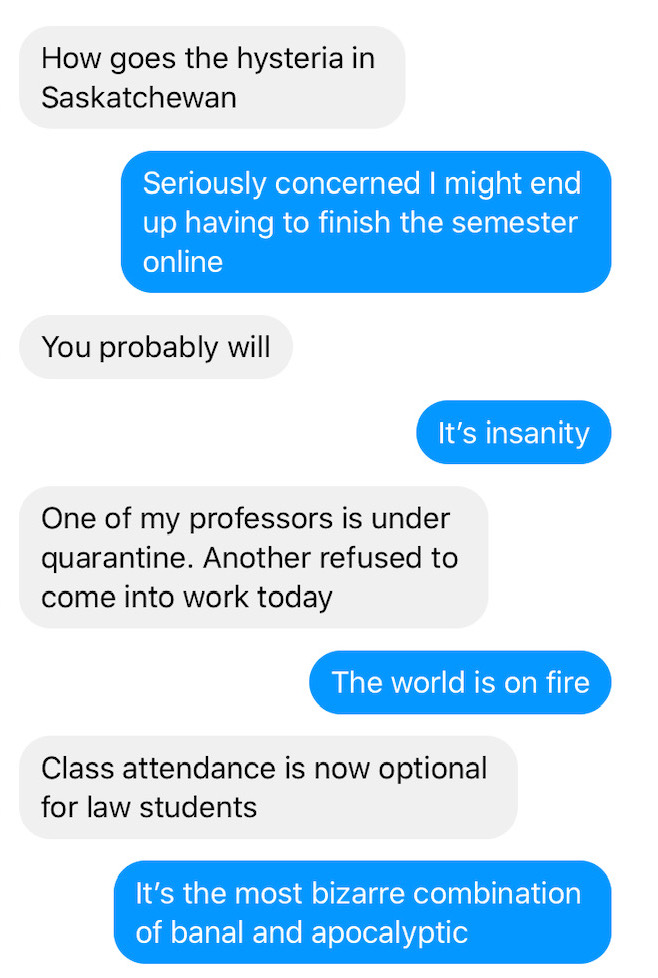 It may not look like it, but this is actually progress.
In his book, The Sickness Unto Death, one of my favorite philosophers (Søren Kierkegaard) develops this concept called "inclosing reserve": when you're tempted by despair, you can end up unable to reach out and to share your thoughts and feelings.
In short, instead of looking like this: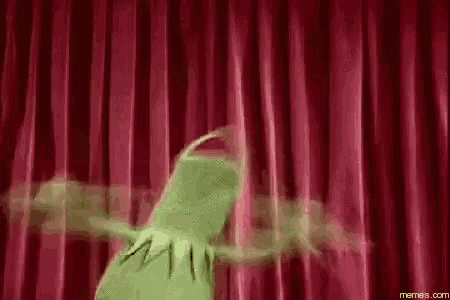 or this, you end up looking like this: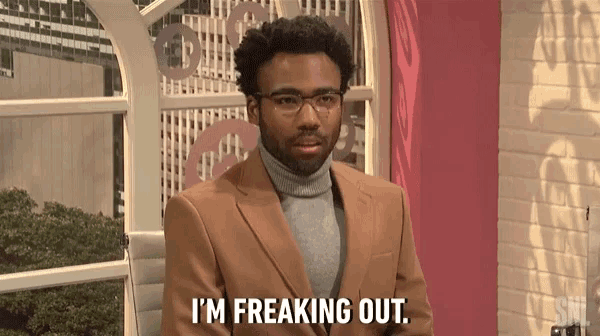 Strangely, Kermit's mode of freak-out might be better. In turbulent days, freaking out is normal. It's better to be honest and to express where you're at with others who have a wider perspective.
I know we have to be physically apart, but we can and should still be social with one another. Commiserate. Open up. Find out how your friends are coping.
5. Socially distanced social sharing
Some of the online stuff I've read has been really positive. It has moved past fear and the freak-out and has started to look like charitable moral advice: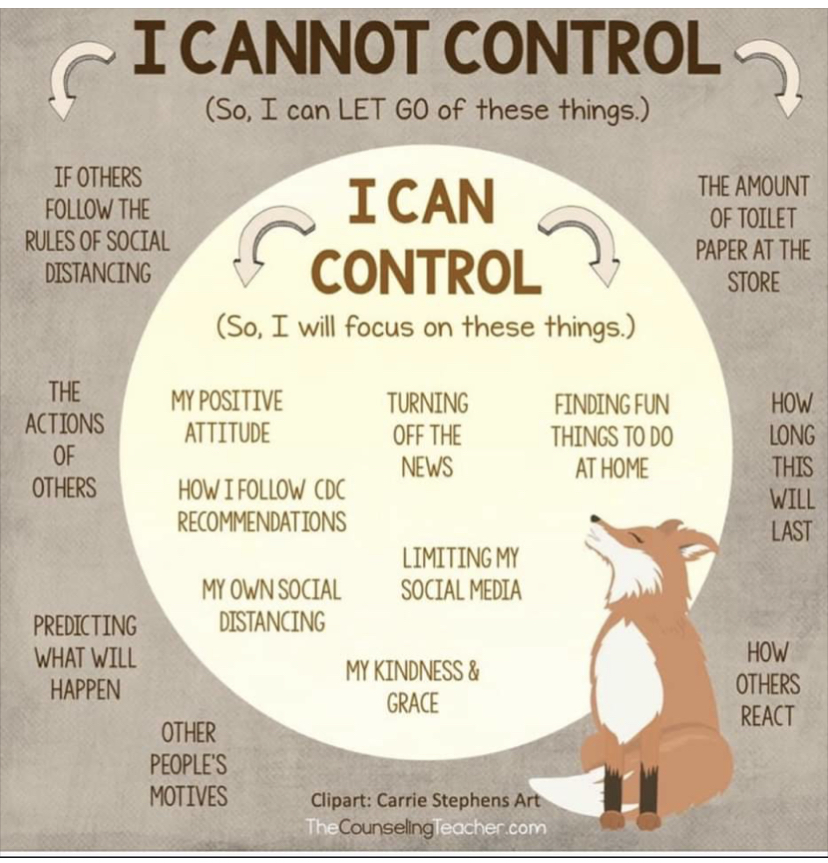 I've gotten texts and emails from people that I haven't seen or heard from for quite a while.
Or like remembering the joy that can be had in this time: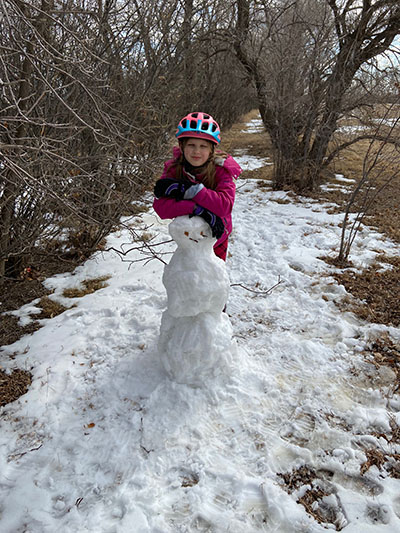 How am I coping? Well, by writing this article. Also, those are my footsteps in the foreground.
6. Re-evaluating: is this an opportunity?
Part of the reason a pandemic inspires such fear is that it leads us to confront our own mortality. We are often distracted by the 10,000 events that fill our days. When we slow down, we can be led to re-evaluate what's really important in life.
Often, we find that we have trapped ourselves into routines and routinized ways of thinking: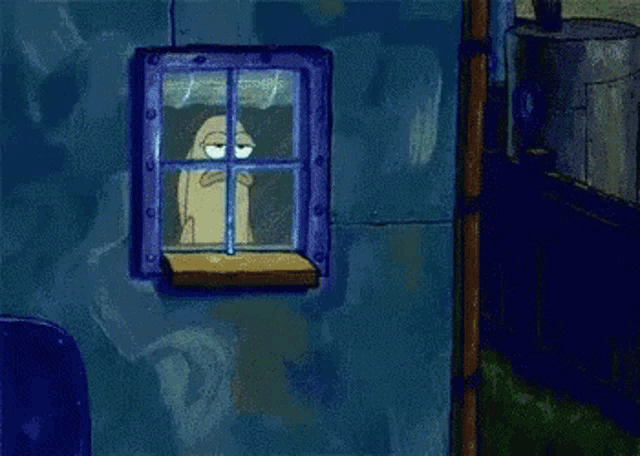 Interruptions in our routine can prompt us to re-think our perspective.
I went to a public high school, but a bit of advice one of my teachers, a Christian, would give us students was this: "Think of this moment in the context of Eternity."
The sun is going to come up tomorrow. Because God is good. This day has its place in God's providence. It is foreseen and foreknown by God. Who knows what it might bring? New discoveries? A baby boom? New opportunities for self-directed learning?
This moment might catch us off-guard, but God is working His purposes out through it.
7. Contemplation, prayer, and service
What this moment can definitely bring is an opportunity for Sabbath rest.
This rest isn't simply rest from work. It's rest that aims at orienting ourselves to God, giving praise to him, and at finding our security in him.
A prof and theologian at Wheaton College, Esau McCauley, said, "A crisis does not create our theology, it reveals it."
Is God good? Yes, so remember and contemplate his goodness.
Is God personal? Yes. So pray to Him.
And remember who you are praying to: Christ, the almighty, the all-powerful, the sustainer of the world.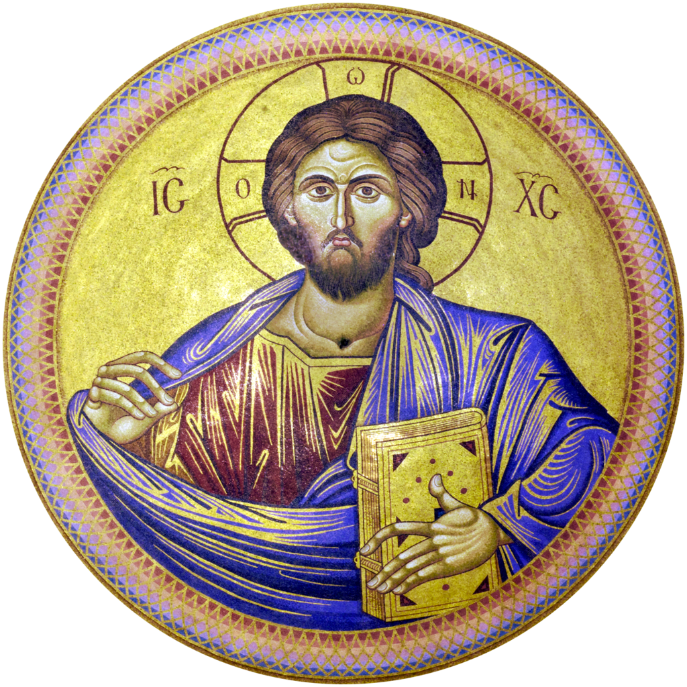 When you set your mind on God's work, Christian service need not spring from fear or self-distraction, but from a settled confidence in God's all-sufficiency. We can become co-laborers with God, though, again, we should remember this:
A pandemic like this hasn't happened for 100 years. Last time it happened, churches were closed. Gatherings were cancelled and outlawed. Public officials were slow to act. Between 20 and 50 million people died from the Spanish Flu.
These are unprecedented days for us, but God is with us.