Clippers take first match against Red Deer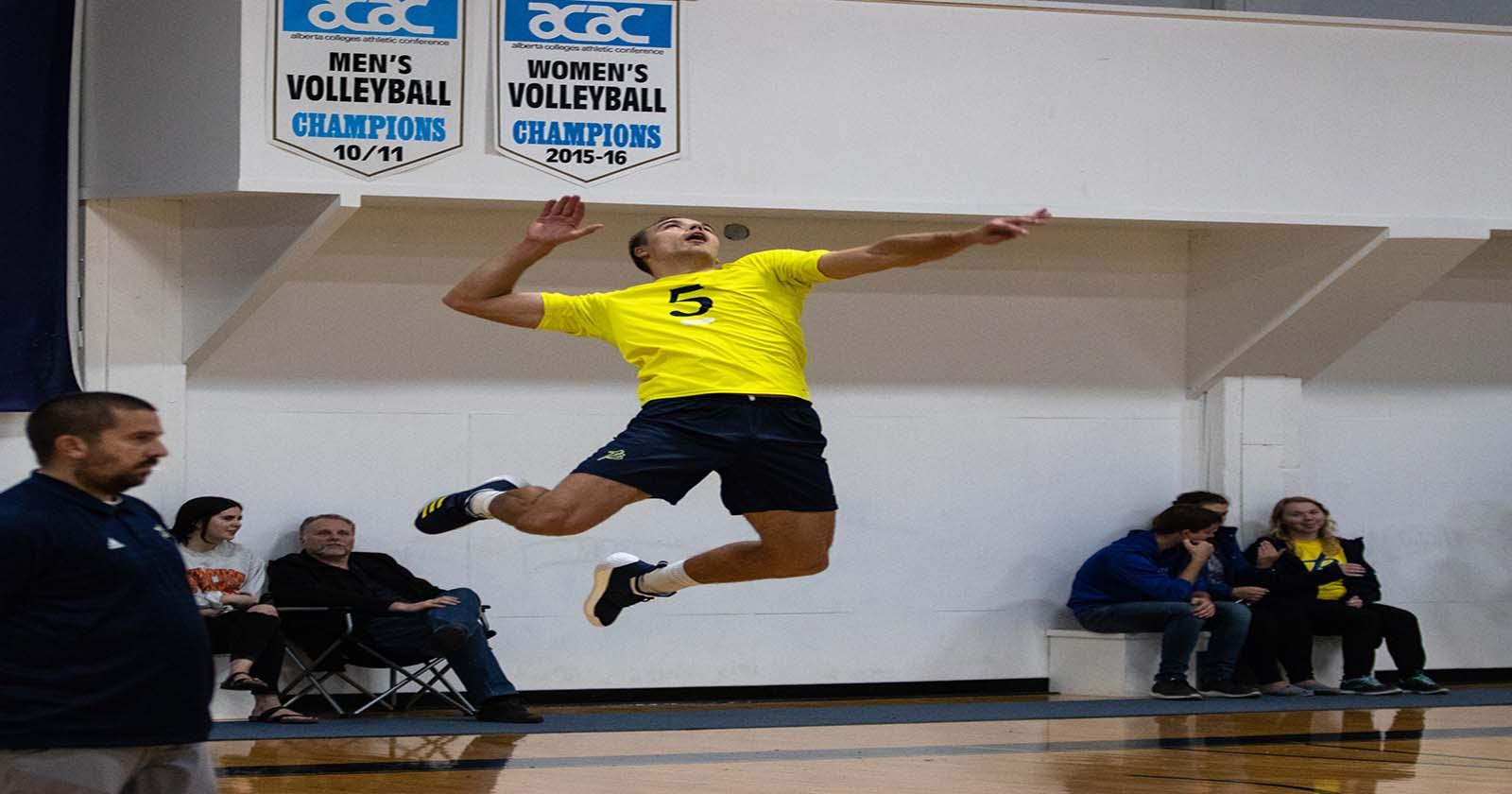 Briercrest came into tonight's game with the goal of claiming their first win of the season. Briercrest Men's Volleyball Alumni joined the fan base tonight to be recognized for their dedication to the team over the years and to cheer on the team.
Briercrest Men's Volleyball won the game in four intense sets over Red Deer (25-20, 20-25, 25-22, 22-22)
Both teams came into the game with high energy and intensity. With many long rallies, each team was battling point-for-point. Briercrest then kicked it up a notched to take the lead by keeping their attack errors to only one. With pressure rising, Red Deer called time at 21-18. Red Deer wasn't able to match Briercrest's 15 kills causing them to lose the first set 20-25. Bryton Codd was immense help to the team by getting 7 kills in the set.
The second set started off similarly with both teams battling back-and-forth for points. Briercrest started to make attack errors though causing them to fall behind. After Red Deer started to increase the lead to 4, Briercrest called time. Mitch Erickson helped Briercrest chip away at the score by getting a clean, hard kill. This kick started some new found momentum for Briercrest and allowed them to close the gap a bit. Later, Briercrest got 4 straight points putting pressure on the other team. With Red Deer still trying to get their first set win, they called timeout to break Briercrest's momentum. Red Deer continued to stay alive making Briercrest lose the second set 20-25.
Briercrest came into the third set in hopes of regaining momentum and claiming a second set win. They were able to put their goal into motion and took an early lead. Red Deer was able to close the gap later in the set, but was not able to pass Briercrest. This caused Red Deer to call timeout three times at 15-12, 22-18 and 23-22. Red Deer was unable to break Briercrest's unstoppable momentum. The set score was 25-22.
With two set wins under their belt, Briercrest was hoping to grab the fourth set to win their first win of the season. Briercrest took an early lead, making them one set closer to winning. Red Deer started to battle back though causing the teams to battle point-for-point once again. With the game on the line, Red Deer called a timeout at 21-20 for Briercrest. Briercrest continued to dominate causing the other team to call one last timeout at 24-22. Briercrest won the game with a fourth set score of 25-22.
Bryton Codd was awarded Player of the Game by Scott Lester. Lester was on the Men's Volleyball team from 2008-2011 and was the captain of the first Briercrest Men's team to claim a gold medal at the ACAC playoffs. Codd had 2 service aces and a team high of 16 kills. Caleb Schnitzer had a game high of 43 assists and Jordan Schnitzer had a game high of 3 service aces.
Briercrest and Red Deer were neck-in-neck for stats. Briercrest had 51-47 kills, 47-44 assists, 6-11 service aces and 18-19 digs.
-Article by Jess Bailey