Hockey upsets NAIT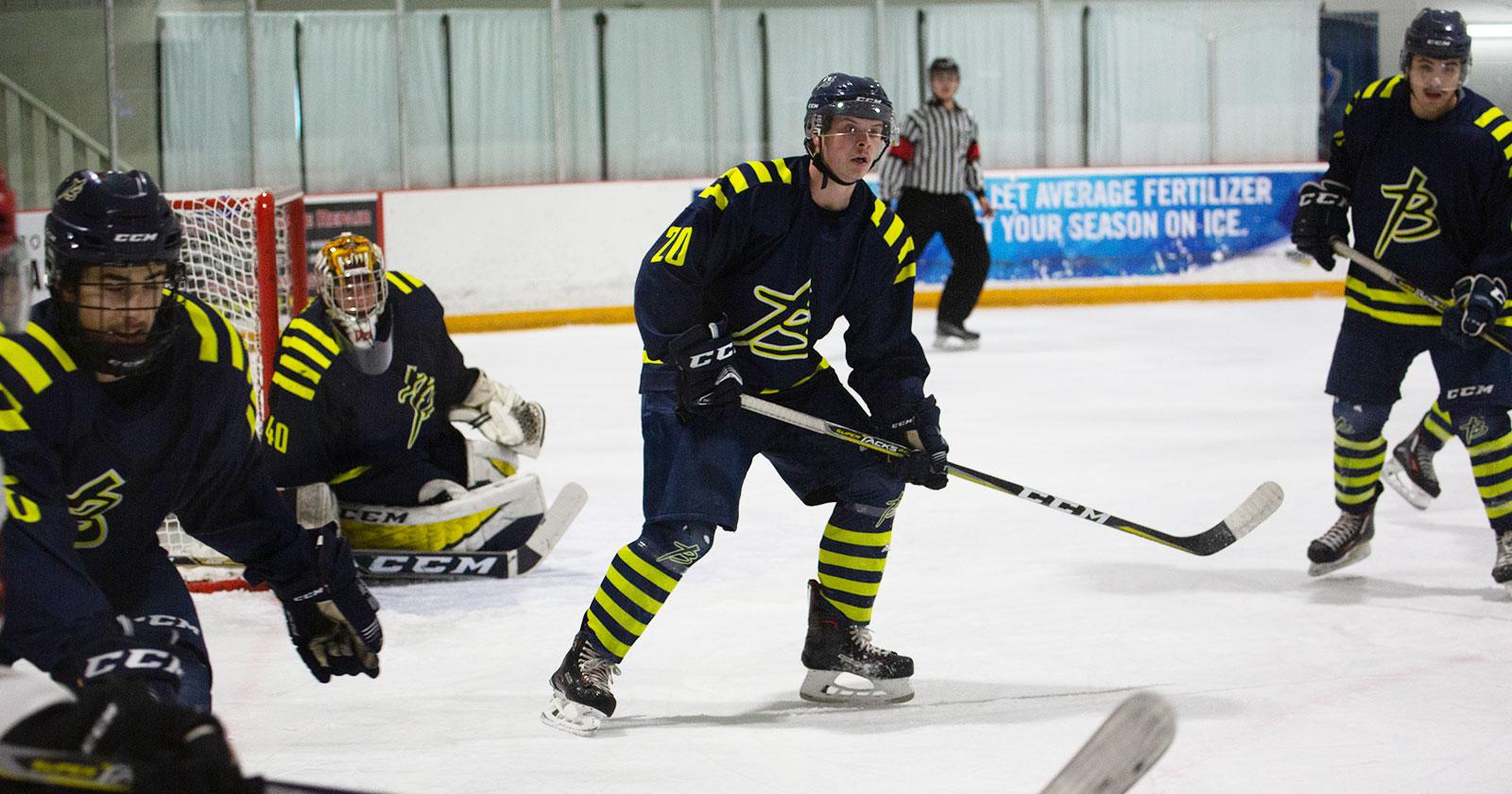 The Briercrest Clippers face off against the NAIT Ooks for their first home game in the second half of their season at Barkman Arena. The last time these teams met was back in October with NAIT winning both games.
The 1st period remained scoreless, although both teams receiving a fair share of penalties. The first penalty was called on NAIT player #9 Isaac Farrah, 2 minutes for tripping 29 seconds into the period. The next penalty, at 8:11, goes to Briercrest new comer #11 Sam Lawson, 2 minutes for high sticking and 2 minutes for roughing; putting NAIT on the power play for 4 minutes. Briercrest is able to kill off most of the first 2 minutes of the penalty before NAIT #13 Tyler Robertson gets a 2-minute penalty for slashing at 19, at 10:08 —making it even strength till 12:08. Briercrest receives the last penalty of the period at 15:37, #21 Cale Kindrachuk, 2 minutes for interference. The first period concludes with 16 shots for NAIT and 6 shots for Briercrest.
The 2nd period opens with a 2 minute boarding call on Briercrest player #10 Trey Doell at 0:48, giving NAIT the chance to be first on the board with a goal by #17 Brandon Ralph assisted by #27 Jordan Davies and #13 Tyler Robertson at 2:16. Briercrest forward #21 Cale Kindrachuk gets his second penalty of the night at 5:33— 2 minutes for charging. Briercrest is able to kill the penalty and get back to even strength, but gets a power play opportunity when NAIT #2 Austin Pickford gets a 2 minute roughing call at 7:57, Briercrest sets up offensively and #18 Josh Boelema is able to get a top shelf goal at 9:27, assisted by #13 Ben Feere. Both teams playing extremely well defensively, Briercrest #21 Cale Kindrachuk gets a 2-minute crosschecking penalty at 11:14. And NAIT #21 Brayden Harris gets a 2-minute penalty at 14:37 for slashing, Briercrest is able to make use of the power play opportunity yet again, and takes the lead at 14:51— scored by #20 Russell Olsen, assisted to new comer #15 Dawson Atamanchuk and #10 Trey Doell. Briercrest ends the 2nd period with a 2- minute tripping penalty handed out to #7 Josh Mitton at 18:10. The second period concludes with Briercrest in the lead, 2-1; shots on goal 30-20 in favour of NAIT.
The 3rd period starts out with NAIT on a power play, but is unfortunately unable to tie things up. Briercrest is able to hold the lead and gets a power play at 1:55— #19 Tanner Younghans, 2 minutes for slashing. NAIT kills off the penalty and draws a penalty on Briercrest player #29 Andrew Sorensen, 2 minutes for interference. Two more penalties are handed out in the third period, high sticking on NAIT player #25 Dylan Stewart and Briercrest player #19 Josiah Friesen for slashing at 9:54. NAIT calls a timeout at 18:25 and pulls their goalie; Briercrest stays strong defensively and is able to hold the lead. The 3rd period concludes 2-1 for Briercrest, shots on goal 23 for Briercrest and 45 for NAIT.
Briercrest new comer #11 Sam Lawson saying that this was a "real character win for [Briercrest], [Briercrest] really came together, everyone chipped in and it was a team win" and when asked about how he sees the rest of the season going for Briercrest, simply stating that [they] will just take it one game at a time and God willing [Briercrest] will be able to get few more wins in.
Player of the game was Briercrest goaltender #31 Dan Dekoning.