Athlete Profile: Brolin Simes
Posted: February 25, 2021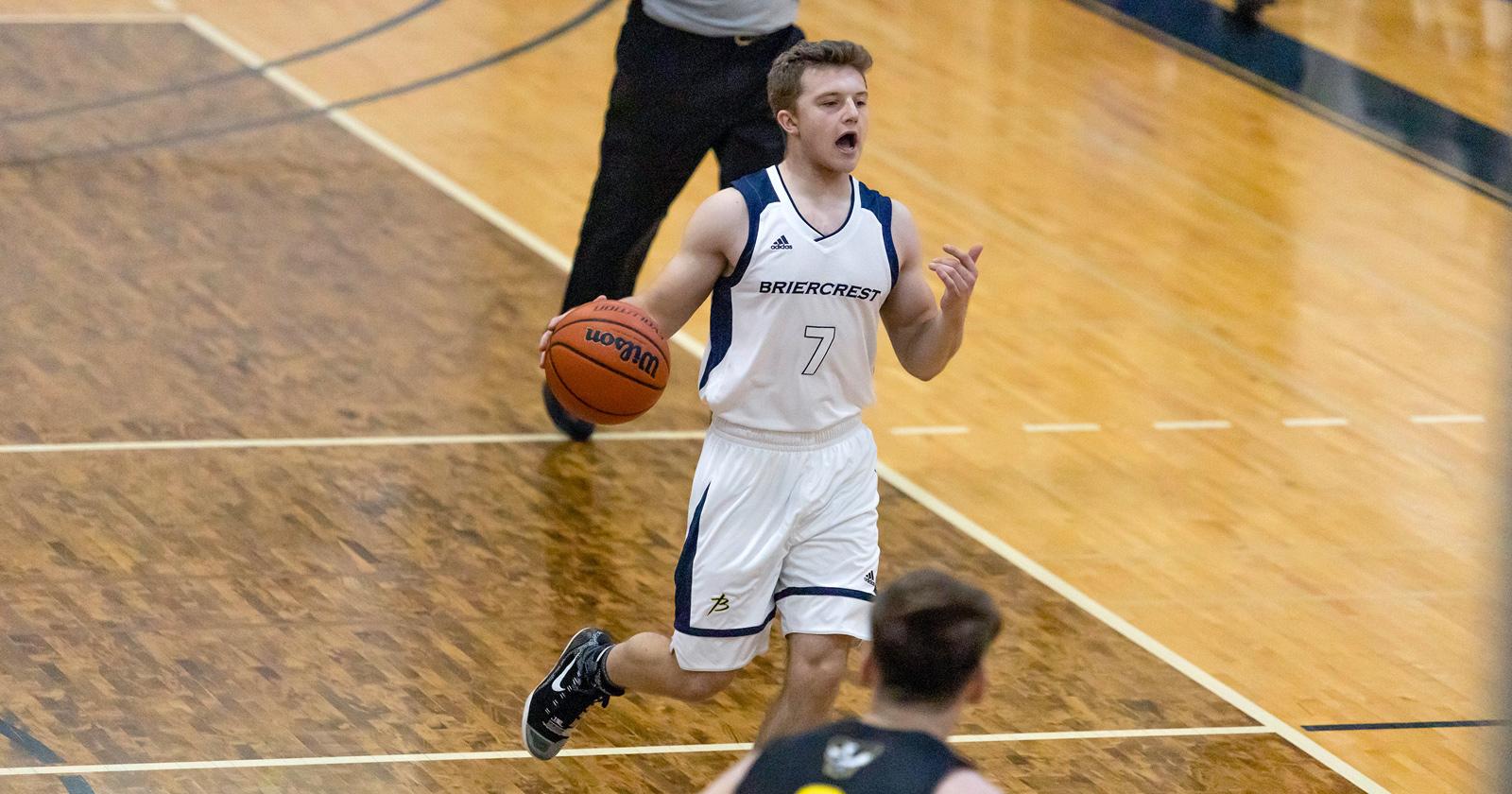 Good shooters are a dime a dozen. Go to any YMCA and you will find a few guys who can knock down three after three. Steph Curry has revolutionized the game of basketball in such a way that now everyone and their uncle can knock down a three-pointer. But there is a different breed of shooter; a player who can change a game by simply stepping on the court, threatening the opposition with the possibility of an automatic 3 points every time they catch the ball on the perimeter. Those shooters are far rarer but Briercrest is lucky to have the best of the best in Brolin Simes.
At first glance, Brolin does not seem to be built for basketball, he would look far less out of place on a football field; his blistering speed and broad shoulders would make him an ideal running back. It looks like maybe he chose the wrong sport...until he shoots the ball. If you blink, you'll miss him releasing his shot and by the time you open your eyes, the ball will be at the bottom of the net. That is a sight that many teams in the ACAC have gotten used to over the past two seasons, ever since Brolin joined the Clippers. He has become one of the deadliest shooters the league has ever seen, averaging 2.3 three-pointers a game at a nearly 40% shooting percentage. Even in a somewhat limited role, Brolin is on pace to break the ACAC record for career three-point makes; as he grows into a larger role in his next three seasons, it is not out of the question that he could see his shooting numbers get even better.
The fact that Brolin is such an integral part of a vastly improved Clipper team is a testament to his hard work. Playing in the ACAC is no walk in the park and it only took Brolin one game against perennial powerhouse SAIT to realize he would need more than shooting to survive. He literally used the word "survive" to describe his first game, which is fair; playing against SAIT has often been a life-or-death affair for teams in the ACAC. When I asked Coach Shane Sowden to describe Brolin's transformation from skinny twig to a mountain of a man, he could only laugh before saying, "it's just night and day." But what Brolin has been able to accomplish in his short time with the Men's basketball team is no laughing matter; he has set the standard for putting in work in the gym and has inspired teammate after teammate to get bigger and stronger.
Briercrest is where Brolin wants to be. That is clear in the way he handles himself on campus, in the classroom, and especially on the court. His commitment to empowering his teammates is arguably more valuable than his shooting ability. Sure, Brolin may have first came to Briercrest simply to fulfill his dream of playing college basketball but what he found was far more fulfilling. He found a community that helped to foster his faith and he has turned that into an opportunity to help others on their walk with God. When I asked about the role that his faith plays in his athletic performance, he gave an answer that perfectly encapsulates Brolin:
"Ultimately, winning or losing matters very little in the grand scheme of things. Making a difference in the lives of both my teammates and opponents is what is most important."
This is a consistent theme among Briercrest athletes: the belief that their athletic careers merely serve to share what God means to them. Brolin's combination of short stature, shocking shooting ability, and commitment to loving the Lord and sharing his word makes him not only easy to cheer for, but also makes him a perfect teammate and leader for the Briercrest Clippers.