MJMC Comes to Briercrest for English Learning Event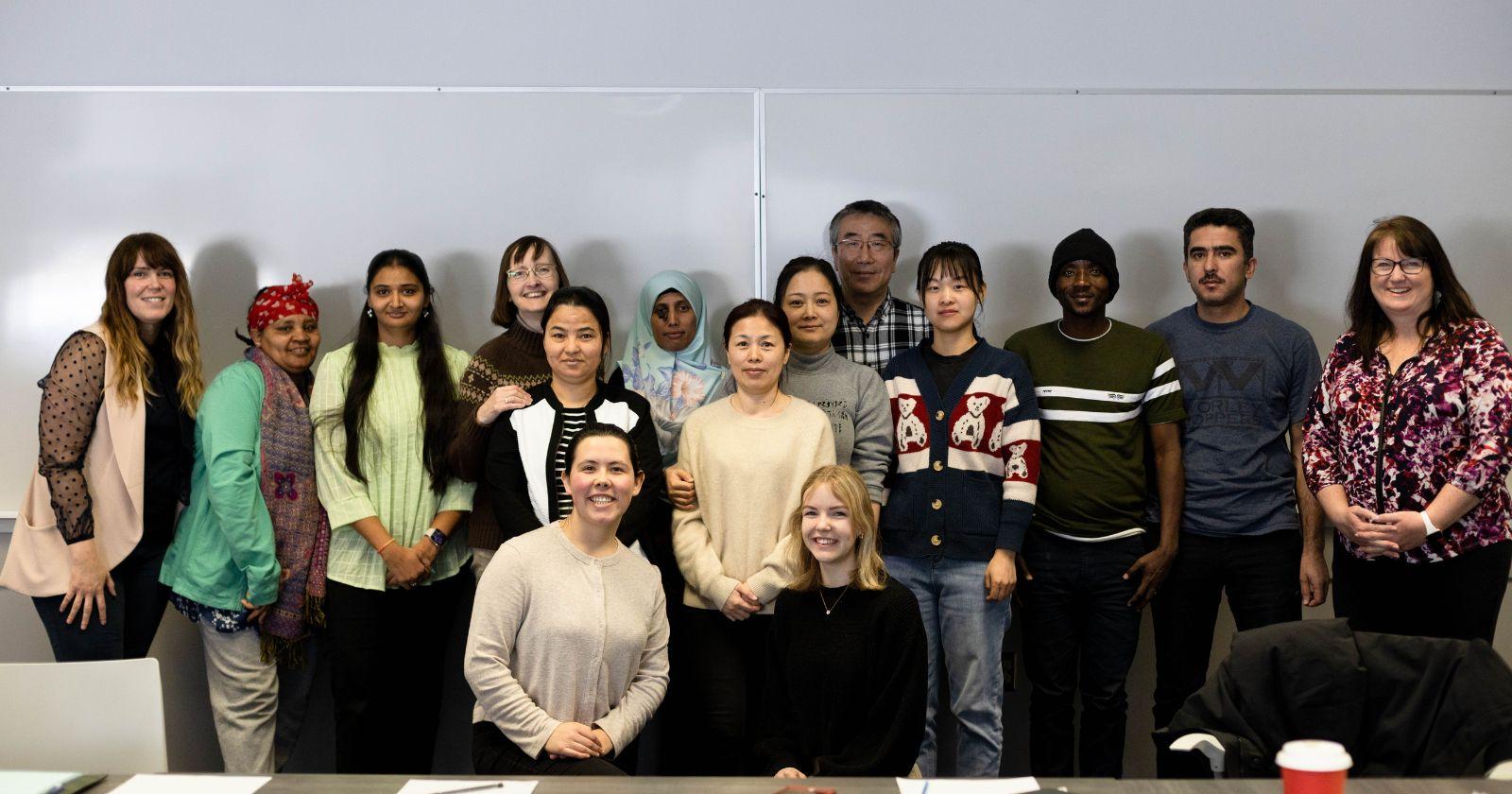 On Wednesday, April 5th, Briercrest TESOL hosted the Moose Jaw Multicultural Council Comes to Briercrest event. The event was initiated by Ginny McColl (TESOL, '12), who is the director of the Language Instruction to Newcomers to Canada (LINC) program at Moose Jaw Multicultural Council (MJMC). Twelve of the MJMC's immigrant and refugee learners came to have their morning classes in Caronport instead of Moose Jaw. David Catterick (Associate Professor of Applied Linguistics: TESOL) and his wife, Sandra (Practicum Supervisor in Applied Linguistics: TESOL), welcomed the guests and provided them with a brief campus tour. Briercrest's president, Michael Pawelke, also welcomed the learners during the event. 
The event allowed TESOL students to gain teaching experience while the guests had an opportunity to experience a different learning environment. To give the usual MJMC teacher a break, Laura Korthuis and Olivia Mowchenko, two of Briercrest's practicum students, taught two 50-minute English classes.
Olivia shared that she had an amazing experience teaching the MJMC learners. According to her, "The learners and their teachers were extremely friendly, making me feel very comfortable in the classroom." She added that she was touched when one of the learners shared their story of feeling nervous when they first started teaching in their home country. Olivia expressed that hearing about the students' professions in their home countries helped her appreciate how hard they are working on learning English and transitioning to life in Canada.
Olivia commended the students' efforts despite the language barrier, stating, "Learning English is not an easy task either!" She expressed her respect for the students and noted that many of them could not do the jobs they were trained to do because of the language barrier. Olivia found joy in their visit to Briercrest and hoped that more trips would be made in the future.
Laura Butt (LINC instructor) received positive feedback from the students after their visit. She stated, "They remembered many details of the lessons and the student teachers, and where they are going this coming summer for their internship." Laura added that the students were particularly interested in the tour of the facilities and learning about the school and programs offered. The students expressed their gratitude for the special day they had been treated to.
Laura noted that the students were thrilled to meet and talk with David and Sandra Catterick. Laura added, "Meeting students and David and Sandra and talking with them in their free time made a big impression, too." She felt the students had a great experience and appreciated being hosted by the TESOL team. 
David Catterick also felt that the event went very well and observed that the MJMC students seemed to enjoy themselves. He highlighted that the "Moose Jaw Multicultural Council is an important practicum and service learning partner for our TESOL program. MJMC hosted several of our Briercrest TESOL practicum students over the past year, so it was a pleasure to return the favour by inviting some of their teachers and students to our campus for a day of classes and to enjoy Briercrest hospitality."
At noon, all the guests and practicum students had lunch together in the Jensen Banquet Room before leaving Briercrest and returning to Moose Jaw at around 1:00 pm. Ginny McColl noted that "the students who were fasting for Ramadan said they really appreciated the games and activities offered over the lunch period, and those that attended the lunch said that they enjoyed all the food options."
Overall, the event was successful in building bridges and expanding perspectives.
About Briercrest's TESOL Program
TESOL is an exciting career path that can open many different opportunities worldwide. Briercrest College offers a Bachelor of Arts degree and a two-year After-Degrees in Applied Linguistics: TESOL accredited by TESL Canada at Professional Standard Two. Briercrest students receive comprehensive in-class training and put their training to use through various practicums and internships. At almost 400 hours of TESOL and TESOL-related instruction, Briercrest has one of the most comprehensive undergraduate TESOL degrees in North America and program alumni teach English in Canada and worldwide.
A recent addition to the program is a 4+1 program that offers the most cost-effective and most extensive route to a bachelor's and master's TESOL qualification in North America. In partnership with Biola University in California, graduates can take a one-year pathway to complete their master's degree in TESOL.
Briercrest is now the only higher education institution in Saskatchewan to offer undergraduate-level TESOL training.