Briercrest Athletics Overnight Camps Returning, Volleyball Camps Expanding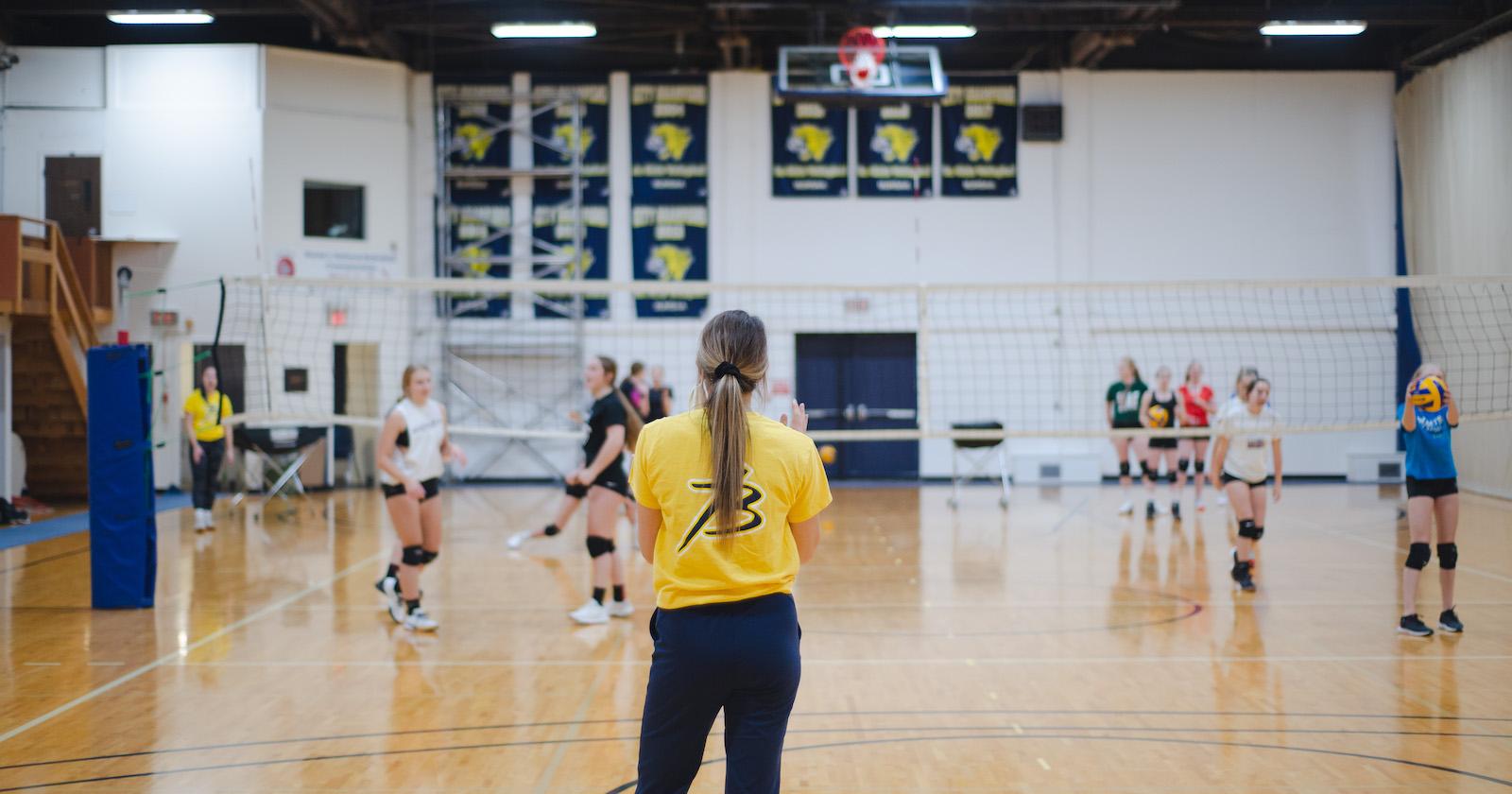 After a summer away, Briercrest Athletics will be kicking off their summer camp season on July 18.
Briercrest is planning to host week-long overnight volleyball and basketball camps during the months of July and August. Overnight camps will be allowed beginning June 20, 2021 in Step Two of the Saskatchewan Re-Opening Roadmap.
Providing opportunities for young athletes in south Saskatchewan to get on the court has been a priority for Briercrest Athletics this year. When college-level league play was cancelled, teams shifted to facilitate mini-leagues for high school athletes to train and compete on Briercrest's campus.
"We think it is critically important to offer these camp opportunities for young athletes in our area as we know they have been deprived of much of their usual sport experience," says Nolan Weinmaster, women's volleyball head coach. "We want to be a place that brings life back into our youth through sport, and to be a place everyone knows they can come and trust that they will have a safe and high-quality sport training experience."
This year, even more young athletes will be able to play because a second girls' volleyball camp has been added to keep up with demand.
Alumni of Briercrest's camps have gone on to play at ACAC, U Sports, and professional levels. Many return to Caronport each summer to coach camps.
Elly (Wendel) Blackaby, Girls' Volleyball Camp Director, is in her tenth year of involvement with Briercrest camps. As a camper, the teaching and encouragement she received from her coaches was foundational for her development.
"When I first started coming to camp, I had a lot of potential but not a ton of skill. By the end of those years, I had offers to play both volleyball and basketball at colleges and universities. Even a week at camp every summer gave me the chance to solidify the basics and get lots of reps and gameplay."
Blackaby's time as a camper helped solidify her spot on Briercrest's Women's Volleyball team, where she said Weinmaster's coaching prepared her for the next level. She went on to win national gold, silver, and bronze medals as the starting right-side hitter for Trinity Western University, where she racked up honours as a Canada West All-Star and CIS (now U Sports) All-Canadian. To top it off, Blackaby earned a spot on Canada's National Team and competed internationally for two years before accepting a contract playing for the Foton Tornados in the Philippines Superliga.
According to Blackaby, camps helped set a strong foundation for her volleyball career, but also for her life. "From being a camper to becoming a coach, our relationship with Jesus was always put first at camp. As a young athlete, this message equipped me for those later years when volleyball demanded much more of me."
This focus remains at the core of Briercrest Athletics camps. Weinmaster said, "Our core focus with Briercrest Athletics and our summer camps is to transform lives towards their God-intended purpose, which includes using the great training environment we have with sport here to help people grow in their relationship with God, grow as people of character, and develop skills for life and their sport.
"We have been able to see huge impact on young lives in all of those areas over the years, and we are excited to continue that this summer!"
Registration for Briercrest Athletics summer camps is now open for the following dates. For registration and more info, visit https://www.gobriercrest.ca/campsclubs/camps/.
Sunday July 18th – Friday July 23rd: Girls volleyball camp #1 (for campers entering grades 7-9 for 2021-22 school year)
Sunday July 25th – Friday July 30th: Girls volleyball camp #2 (for campers entering grades 10-12 for 2021-22 school year)
Sunday August 1st – Friday August 6th: Boys volleyball camp (for campers entering grades 7-12 for 2021-22 school year)
Sunday August 8th – Friday August 13th: Boys basketball camp (for campers entering grades 7-12 for 2021-22 school year)
Sunday August 15th – Friday August 20th: Girls basketball camp (for campers entering grades 7-12 for 2021-22 school year)